(Apologies for the poor quality photos, it was a really dull day. I'm also peeved that you have to now pay for the Pic Monkey feature that lets you draw on mascara. Now I have to actually put mascara on just for a blog photo?! )
Well, I feel like I deserve a pat on the back for having already addressed one of my sewing goals for 2013 - sewing with jersey. I'm super chuffed to have finally wrestled with my machine's stitch settings and made a top with jersey after my first ill-fated attempt nearly two years ago.
Before I tell you about what I made, I wanted to encourage those people without sergers that you can sew with jersey using just your machine. Even a basic machine like mine will do the job, with some experimentation with stitch type, length and width. Look, my machine doesn't even have numbers on the width dial, just some pictures of progressively wider zig zags.
It certainly doesn't have a stitch designed for stretch fabrics either.
I have used a bit of tape stuck on to show the perfect width for seam stitching on jersey:
There's loads of advice available on blogs about sewing knits and jersey for beginners, so I won't go into it at length - I did find
Steph's posts at
3 Hours Pa
st the Edge of the World
, to be particularly helpful. Essentially experimentation and practice are key here.
When it came to finishing the edges, I just trimmed the seam allowance and sewed it together using a zig zag, in imitation of a serged finish. I have no idea of anyone else does this as I couldn't find much about finishing edges without a serger. Hopefully it will hold up to frequent wear and washing ok, and it keeps things nice and neat even though it does use a mother load of thread.
On to my review of the pattern:
Pattern Used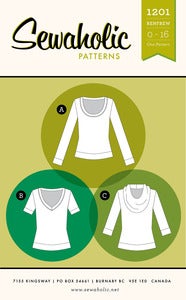 Sewaholic's Renfrew. I made the version with the round neck and 3/4 length sleeves
What did you particularly like or dislike about the pattern?
Well, since everyone else has been raving about how great it is, the Renfrew definitely has the seal of approval from sewing bloggers for being easy to make, versatile and wearable. I liked the way that the neck, cuffs and hem were finished with bands to give a neat look.
Fabric & Notions
1.6 metres of printed spot jersey from Mandors at £9.99 a metre, purchased when I went shopping with
Debi
and
Kathryn
. I liked the unusual colour combination of golden brown on navy.
Pattern alterations or any design changes you made
I cut a 10 but graded to a 12 at the back shoulders. I added 1" to the length - I probably could have got away without doing this but I prefer a longer length top.

Would you sew it again and do anything different next time?
I am DEFINITELY sewing this again - are you kidding me? I 100% love this pattern and it is in many ways the answer to my problem of getting tops to fit me (see
here for my woes
). I will be making this again and again, I know this for sure. I'm not such a fan of the cowl or V-necklines but I will stick with the round neck and probably make a few variations of sleeve length. Hey, maybe I'll even branch out a draft a boat neck.
Did you use any new techniques?
Yep, sewing with jersey! This is the first garment I have made with jersey but once I got sorted with what stitch length/width/type I should be using, it was fine.
It was also the first time I had set in the sleeves flat. This was really straightforward and I was glad to try the technique after having heard about it before. It works well for this pattern as the sleeves are designed to be inserted that way - not sure how well that technique would work for other patterns which often have a ton of excess in the sleeve cap.
This was also the first project cut out using my new rotary cutter and cutting mat. This was perfect for jersey and I'll be making a lot more use of it in the future. I won't be abandoning my shears just yet but it was certainly quick and easy to use the cutter and mat.
Would you recommend the pattern to others?
Wholeheartedly.

Cost
About £17 for fabric and thread - the pattern was a gift.
I'm not sure why jersey is so expensive, when it is so widely used in high street fashion I can't see why this should be the case. I am going to be looking out for jersey online that it is a better price - the only issue is that I found that the jersey I've seen in shops varies widely in stretchiness and opacity and this makes me a little nervous about buying it online.
Kathryn recommended Tissu Fabrics for cheap jersey and I have also ordered some from Croft Mill as an experiment. I love the range available at US-based Girl Charlee, though I'm a little nervous about ordering from the States in case I get hit with a whopping customs charge. Anyone have any experience with these companies or any other recommendations?
I'm sure getting samples would be really helpful - on their website, Tissu say that they encourage customers to ask for samples but I can't see an easy way to request them through the site and they have ignored the email I sent regarding samples a few days ago.
(Thinking about making more Renfrews)
Conclusion
I'm converted to jersey. It was also an unofficial resolution that I need more polka dots in my wardrobe too, so I am especially chuffed. I was just fantastic to make a top and wear it without having to worry about stupid broad upper back adjustments, which I am still trying to make work for me.
Doing my round up of last year's sewing combined with tidying my wardrobe and drawers made me realise that I have not sewn a successful top and I dislike a lot of the tops I do have.
While this isn't a 'Wow' make that people ask you about, i
t feels like freedom from tiresome adjustments to have found this pattern and know how wearable it is for me. Is it too early to have made my favourite thing of 2013? It does feel like that - expect to be bored of seeing my
Renfrews
in the future...
K x
EDIT: Since typing and scheduling this post, my machine has refused to sew jersey for my next project. Despite carefully using the same settings, cleaning it and then trying different settings it is now making a fool out of me by refusing to sew jersey without skipping stitches. I am now considering my options - I have limited sewing space but I am wondering if a serger is the way forward.
My options are - buy a new sewing machine essentially to get one with an effective and reliable stretch stitch as my machine is basic but generally fine for what I need or buy a serger which will meet my need and more but will be another thing in my sewing space (the living room). I have used a serger only for finishing the edges of woven fabric (in a sewing class) but from what I understand you can use it to make the seam (and at the same time finish it) on jersey/knits.
I'd love to know how you sew these fabrics, (use a sewing machine or serger only or a combination) to help me make my decision!