Sewing for, and dressing during, pregnancy certainly brings some new challenges. I've put together a few thoughts about how I've been doing with it up to now (at 25 weeks pregnant). I thought it would be interesting to look back on these with hindsight later too, to see how many stayed the same:
1. Get fitted for a new bra.
Just like building a house, you need to have good foundations. As you will likely have increased in size during pregnancy it's really important to get properly fitted for a bra. I went to
Bravissimo
and can highly recommend their fitting service which isn't based solely around reading off a tape measure to ensure that a bra is fitting you properly. Bravissimo specialise in bras from a D cup upwards, and even if you think you don't fall within their parameters, I'd recommend going to get measured for free anyway - you may be surprised. Without revealing my bra size online, I will say that I was previously not wearing a bra that fitted into their range but now I am. Even if you're not pregnant you should be getting measured regularly.
A well fitting bra will make your clothes look better and will you make you feel better. Plus due to future breast changes it is important to get specialist advice on a bra that will suit your changing size.
2. Use it as a reason to buy new patterns!
There are some lovely patterns out there, from vintage on eBay and
Etsy
to
Megan Nielson
's maternity patterns range.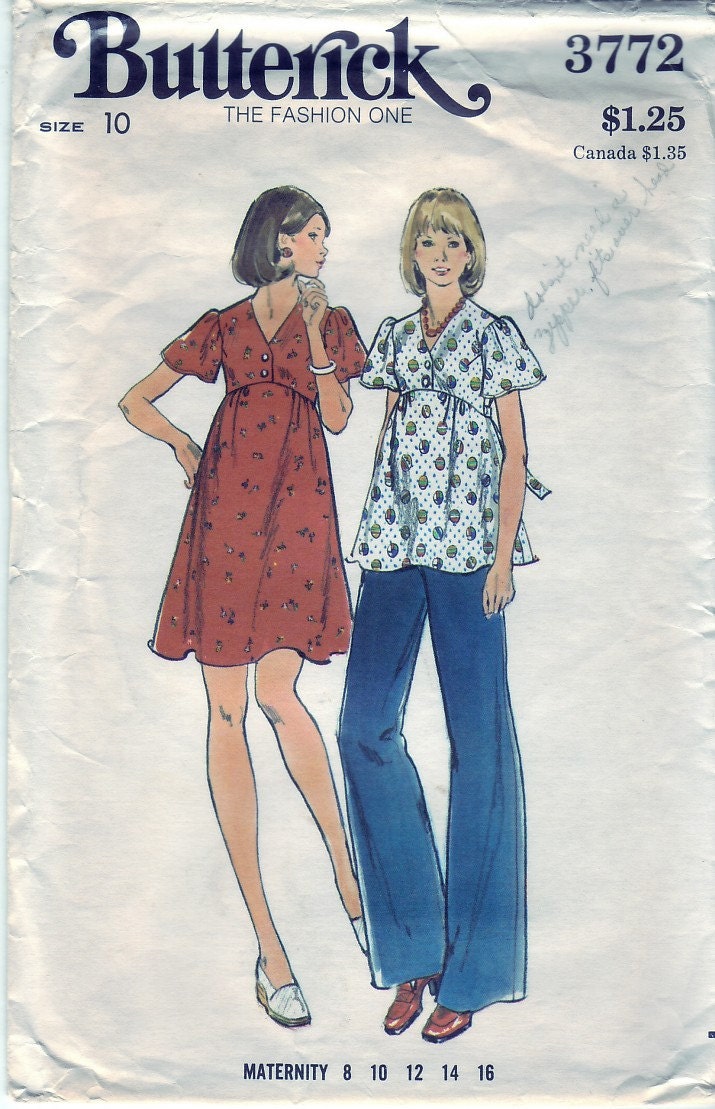 3. Or don't buy new patterns but shop your pattern stash and think creatively
You might be surprised at how suitable some of your existing patterns are for maternity wear - in the early days at least. I have found my
Grainline Scout T-shirts
to be nice and loose and am making a W
iksten Tova
top too. There are some great free tutorials for maternity adjustments to existing popular patterns, such as
Tabatha Tweedie's Sewaholic Crescent Skirt
or
So Zo's tutorial for maternity jersey tops
.
4. Knits are your friend
Lots of people will tell you this, and it's true. You might still fit into some of your 'normal' clothes for a while, but eventually they'll get uncomfortable. Embrace stretch.
5. You won't be ready for maternity wear straight away
This might seem obvious but I was so excited to get into maternity wear I was wearing my maternity jeans ASAP. But I am still wearing most of my normal tops - the jersey ones and the looser-fitting woven tops. I've also picked up a few tops in this style from charity shops too. There are plenty of looser fit non-maternity patterns you can make up for the early days that you'll be able to wear post-pregnancy too, as mentioned above.
6. Be practical about what you can make
I wear jeans a lot at the weekends but there was no way I was going to tackle making my own maternity jeans, having never made trousers before. Weighing it up, it would have been too much time and trouble to be worthwhile.
7. Embrace having a smaller wardrobe
I've been enjoying having fewer clothes to wear as I've found that I make more of an effort with my outfits and am forced to think creatively about what I wear and how I accessorise it, with a smaller pool of clothes to select from. I may well not feel like this towards the end of pregnancy when I fit into a lot less, but up to this stage I've been really enjoying dressing.
8. Don't keep anything 'for good'
There's really no point making things for limited occasions, if you have a wedding to attend for example. If you try and make some versatile pieces that you really love, you'll enjoy wearing them frequently.
9. Check out Ebay for maternity clothing and charity shops for items with restyle potential
If you don't want to buy maternity wear new then there is a lot available on Ebay. I got a pair of maternity jeans, though unfortunately they weren't long enough for me in the end they only cost £5. Even if you've never tried restyling an item before, now could be the time to pick up something for cheap at your local chazza and have a go making it work for you.
10. Enjoy the changes to your style
You won't be able to wear the same kind of things you wore before, but try and enjoy experimenting with different styles. If vintage goddess Casey of
Casey's Elegant Musings
can work knits and elastic into her formerly strictly vintage style, anyone can embrace the changes.
Have you got any other thoughts on dressing during pregnancy?
K x