In 2005, the artist Simon Starling took a disused shed from the banks of the river Rhine. He dismantled it, used parts of it to make a boat, sailed the boat down the river with the rest of the shed inside and reassembled the shed in a museum. The resulting artwork is called
Shedboatshed
and is typical of his work, which reflects his fascination about travel and transformative processes. Even if you're not a fan of contemporary art, you have to admit that this artwork required a great deal of dedication (and is pretty cool).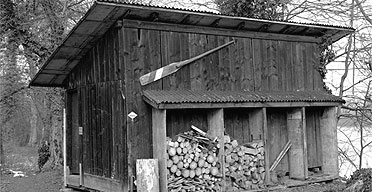 My own project does not have the same gravitas, and has not helped me to win the Turner Prize BUT it has required dogged determination plus I have ended up with something that it useful and I like.
I have posted this project before,
two years ago
, in its intermediate incarnation of a sofa throw. At that time I was pretty happy with the throw, but as time went on, it became clear that it wasn't very practical:
The long skinny shape meant that it kept falling off the back of the sofa but also wasn't wide enough to use as a blanket. As I mentioned in that post, the wool and needles cost me £60 (yes, that it is insane) and so I couldn't bear to let it be a useless project or just get rid of it.
I ripped the whole thing out and reknit it again wider and also on a smaller needle size, so that the fabric would be a bit firmer. Now it functions well as a blanket, one of a pile kept on the arm of the sofa which is ideal for dozing under.
Blanket in use - though there is something about this image of my legs under the blanket that I find a bit creepy
Making something from the same wool three times is a record for me. How many times have you reused wool?
K x
If you want to read more about Simon Starling you can find out more here:
http://www.theguardian.com/uk/2005/dec/06/arts.turnerprize2005
http://www.tate.org.uk/whats-on/tate-britain/exhibition/turner-prize-2005/turner-prize-2005-artists-simon-starling