Dungarees and dungaree dresses have been popping up all over the place, and there seem to be quite a few sewing patterns available. They're probably 'over' by now in fashion terms, not that that concerns me, as I've been keen to make one of my own.
In fact, I made this dress weeks ago and have been wearing it regularly (i.e. every weekend) since then, but haven't got around to photographing it until now. These photos were rushed phone ones, since when the light was right and I chose the lest heinous wall in our house (in front of our beautiful winter scene, an interim measure), the dress had been well worn and was not really looking its best. Never mind, I'm just delighted to have finally got the pictures to accompany the draft blog post I started ages ago.
Pattern
I considered a few options before I decided on Marilla Walker's Dungaree Dress from the
Roberts Collection
(view C) in shorter length. It has pockets and fastens at the side.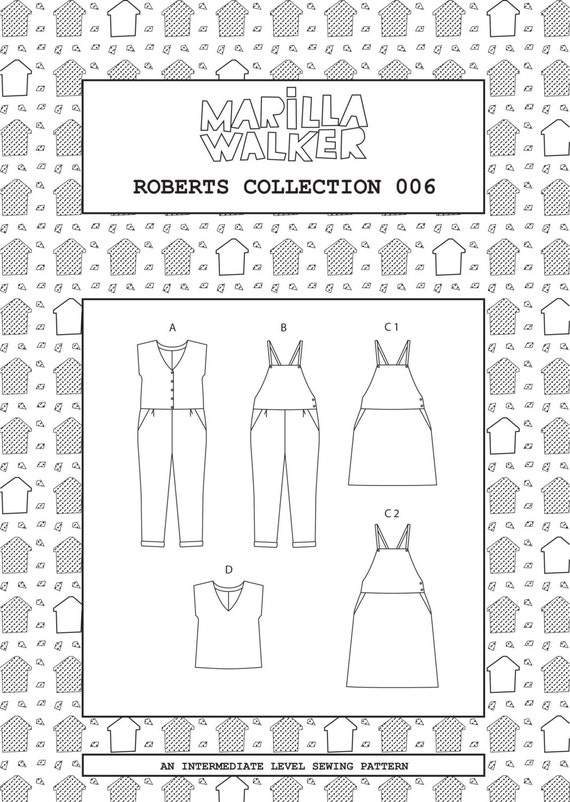 Reason for pattern choice
I liked the contemporary, simple look of this pattern, with the thin straps which look more elegant that the traditional dungaree dress fastenings.
Fabric & Notions
The denim was a charity shop purchase, with bib lining and pockets in blue and white cotton left over from my
disaster Inari dress
. I also bought antique bronze snaps to use with my Prym Vario pliers. I used two snaps on each side as I ended up attaching the first a bit low, but I like the look of it. I also decided to change which way the fasteners went, so had to ply out the first lot, hence the interfacing reinforcement on the back of the bib, as see above.
Pattern alterations or any design changes
I made a size 2 but ended up tapering the sides in at the waist as it was a bit loose for the look I wanted. I found the shorter length to be perfect for what I wanted too - it is designed to be knee length but I wanted above the knee. I finished the hem with some leftover scraps of Liberty bias tape (made for
this dress)
and I had *just* enough for what I need - which was incredibly satisfying. This is a great hem finish for thicker fabrics like denim as it ensures there is no bulky edge. I then just straight stitched it - I think the stitches are not noticeable on this kind of fabric, I can't be bothered faffing with blind hemming and my hand stitching is never secure enough.
How was it to sew?
I'd not used a Marilla Walker pattern before - despite printing and cutting out the pattern for her tights at the end of 2015, moving house got in the way of my good intentions and the project was shelved. I did find myself puzzling over some of the instructions as the steps don't all include illustrations. Using the pattern really underlined to me how much of a visual learner I am - I am terrible at imagining things like instructions and thinking ahead without a visual or demonstration and therefore have to really rely on the textual directions, so I do struggle if they aren't absolutely clear to me. I think I'd make a good proof reader for sewing pattern instructions! I've just faced a similar issue in the directions of another pattern company recently too, where I have had to email them for clarity, so it's not just this pattern that had me scratching my head!
I think this may have been why I got confused and made the button placket face the wrong way. Again though - I didn't really appreciate how this would affect the look of the garment until nearly the end, when I had already put on the snap fasteners. Now I've worn it a few times it doesn't bother me too much, but I would prefer I'd done it the right way.
I really liked the neat finish achieved by the lining of the bib which allows you to get clean finish without having to really think about it. Bonus! Overall, using the pattern was a really interesting lesson in reading instructions for me as I have become very used to a certain type of instructions so there were some things I liked but others I found more challenging.
Would you sew it again and do anything different next time?
I would definitely sew it again - in fact I have already cut the pieces for my next one. Next time I would taper the waist before I cut and sewed the fabric instead of doing it on the fly. I would maybe shorten the straps a tiny bit too as I ended up doing the double popper thing, which makes a nice feature but wasn't my original intention
Would you recommend it to others?
Definitely, and I think it's good value for money as a collection.
Cost
Fabric £8.99
Pattern £8.40
Snaps £8.00
Thread £1.55
Total - £26.94
Conclusion
I really, really love this dress - it is so comfy to wear as well as practical. I wear it basically every single weekend.
K x